Product recommendations
Recommendations – whether from friends, reviews or other encounters – are one of the principal motivators when it comes to making a purchase decision.
Custobar calculates product recommendations for use
These are based on a number of factors, and, importantly, are calculated using all recorded purchases, not just those made online.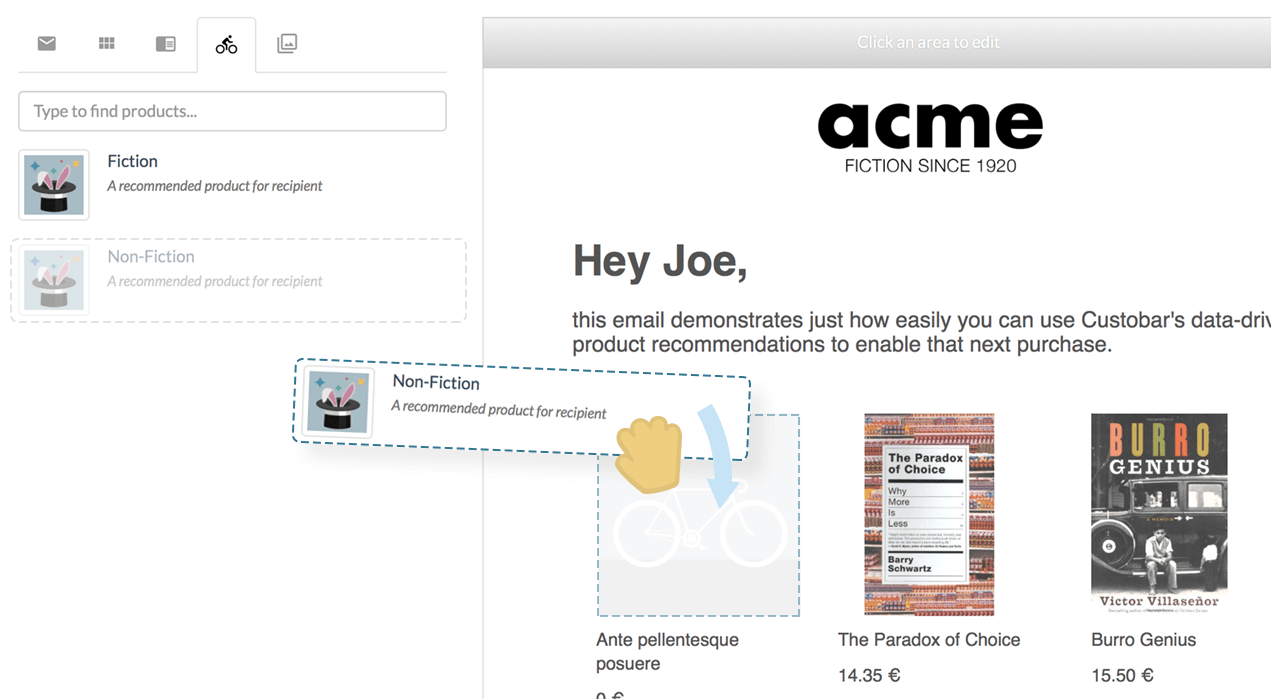 Our system calculates recommendations based upon customers' sales and browsing data, as well as discerning those products that certain groups of individuals buy. This is based upon the best-performing personal recommendation algorithm we have tested.
Some example product recommendations
A recommended product specifically for an individual customer
Content-based recommendations, such as 'Similar products'
'Customers who bought this also bought…' – item-based collaborative filtering based on sales data
'Customers who viewed this also viewed…' - item-based collaborative filtering based on browsing data
Product recommendation API
Product based recommendations
Format of the API request: https://[customer_domain].custobar.com/api/recommendations/[product_id]/ [type_of_recommendation]/?[extra_parameter]&[extra_parameter2]
type_of_recommendation This parameter can have 4 different values: similar, bought, viewed or all. All will return all types.
extra_parameters ids_only=1 API returns only IDs of the recommended products. Otherwise it will return all product data in Custobar of the recommended products as JSON.
count=x you can specify the number of products you want to receive.
boost=1 -boosts similar products (brand, category, type etc.) higher. Boosted fields can be configured from company settings. Used in bought & viewed products.
category | type | brand can be used for filtering results
Some examples: Other customers bought also these products (in these examples: Product ID = 0375704027): GET https://example.custobar.com/api/recommendations/0375704027/bought/?ids_only=1
Filter recommendations with product type: https://example.custobar.com/api/recommendations/0375704027/bought/?ids_only=1& type=Hard+Cover
Other customers viewed also these products: https://example.custobar.com/api/recommendations/0375704027/viewed/?ids_only=1
Similar products: https://example.custobar.com/api/recommendations/0375704027/similar/?ids_only=1
Top Products
Most sold products (returns product ID and count) https://example.custobar.com/api/products/bought/
https://example.custobar.com/api/products/bought/?category=xxx https://example.custobar.com/api/products/bought/?brand=yyy https://example.custobar.com/api/products/bought/?brand=yyy&date=2017-01-01_2018-01-01
Most viewed products (returns product ID and count) Like the most sold products. https://example.custobar.com/api/products/viewed/ https://example.custobar.com/api/products/viewed/?category=xxx
You can also include count, i.e: https://example.custobar.com/api/products/bought/?brand=yyy&count=5 https://example.custobar.com/api/products/bought/?brand=yyy&count=50
Personalized product recommendations for customer
https://example.custobar.com/api/customers/[Customer ID]/recommendations/?ids_only=1&count=10 Example: https://example.custobar.com/api/customers/294168/recommendations/?ids_only=1