Marketing Automation
Custobar is built of customer data platform, marketing automation and addons that are designed with multi-channel retail at heart.
Marketing automation in Custobar is designed to match the needs of multi-channel retailer. Create ad-hoc micro segments or build automations to keep your customers active and ee conversions in sales per stores.
Dynamic targeting
Dynamic targeting means sending messages to customers automatically as soon as they fulfill certain criteria.
This is great for taking care of good retail practices such as welcoming new customers, sending reminders about abandoned shopping basket, and otherwise activating passive customers. A properly developed customer care model is an efficient way to increase your customer loyalty.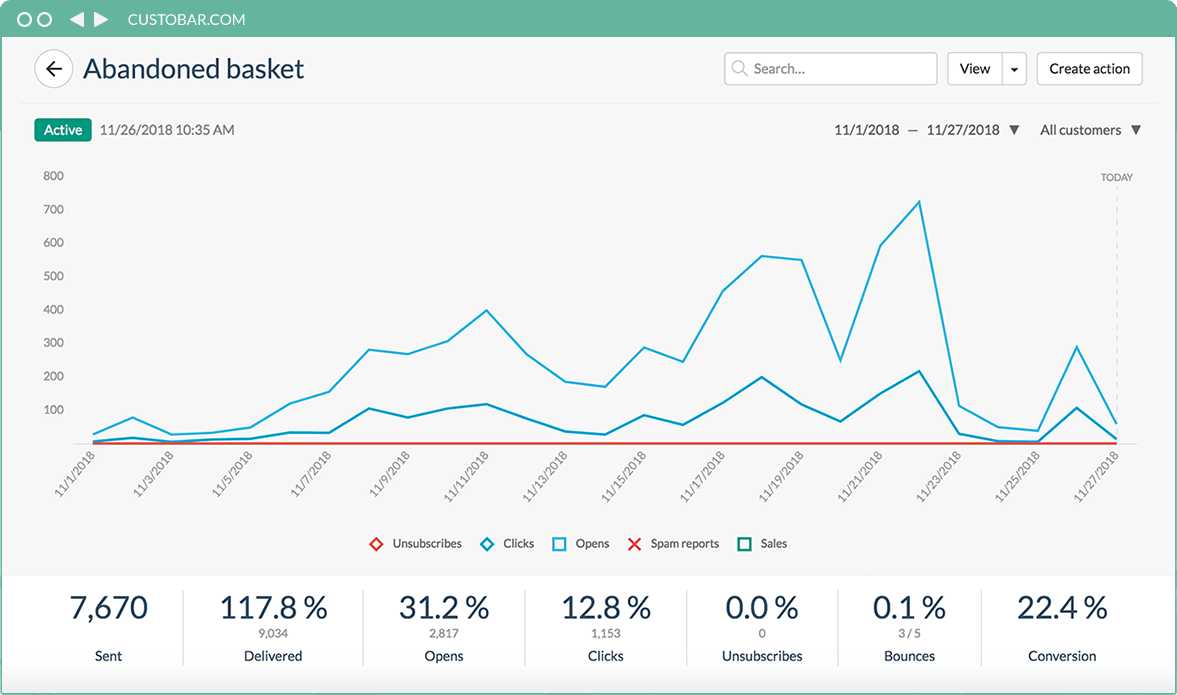 Custobar can react to any event in real time, dispatching campaign communications to increase sales and nurture the customer relationship.
Increase your sales with automations
Marketing automations are amazing, but only if they work. Our best retailers have been tried and failed with different automations. By tracing the results in actual sales numbers they've managed to find successful set of campaign automations.
Here are some of our favourites:
Onboarding message in 3 steps
Welcome message

If no purchase in 2 weeks send an initiative for a purchase

If still no purchase in 2 weeks send an initiative for a purchase with a coupon


Abandoned shopping cart reminder
Added products to a shopping cart within 2 days if not a purchase

Automatically get the products to an email via Custobar module


Behaviour-based email marketing
Email based on customer's recent visit on product or category pages. We thought you might be interested in these items.
Re-active passive customers
Exclude always customers without activity (purchases or email activity) for a half year from newsletters and active them with something else.
Ask for a review after purchase
Automated aftersale from related categories
Loyalty program
Encourage to reach the next level of your loyalty program for the one potential ones.
Reward your VIP customers
Customer lifetime value: A surprisingly small number of customers can be responsible for the majority of your income, and those should be taken care of best. Keep them happy.
Anniversary emails and birthday email
CRM classic, but definitely not outdated. Attach coupon codes or your preferable congrats.
All the automations can be activated as easily as normal campaigns. If needed ask for help from [email protected]. Also our loyal partner network is helping to develop customership for retailers all around Europe. Ask for more.
Deliverability note:
Compared to mass mails these automated campaigns are sent in smaller batches and are more likely to reach the customer. Higher open rate is the key to deliverability.