Dashboard
Everytime you open up Custobar you are welcomed with Custobar's dashboard, which gives you a quick overview of what is going on in your customer base. In this article you will find a basic description of all the features you see in the dashboard and links to the specific articles about information provided.
1. Main navigation
On the top of the page, you will find the main navigation and the sub-navigation of the Custobar. You will learn what they include and how they function in other articles: Customers, Customer Page, Sales, Products, Events, Campaigns, Settings and User Management. If you are using more than one environment, you will also be able to see which one you are using (In this example, the Acme environment) and which user is logged in (In this example, CK is logged in). This view also shows "go-live", indicating that this is just a test version and would require the Admin to put it in production mode.
2. Key performance indicators (KPI)
Here you will find the real time data of the most important KPI's of your customers. You can switch for example from the total customer population and its evolution to the RFM Matrix to identify trends within your customer base. This is done simply by clicking the tab button.
3. RFM MATRIX
As said above, the RFM Matrix will be available for you to review based on real-time customer data.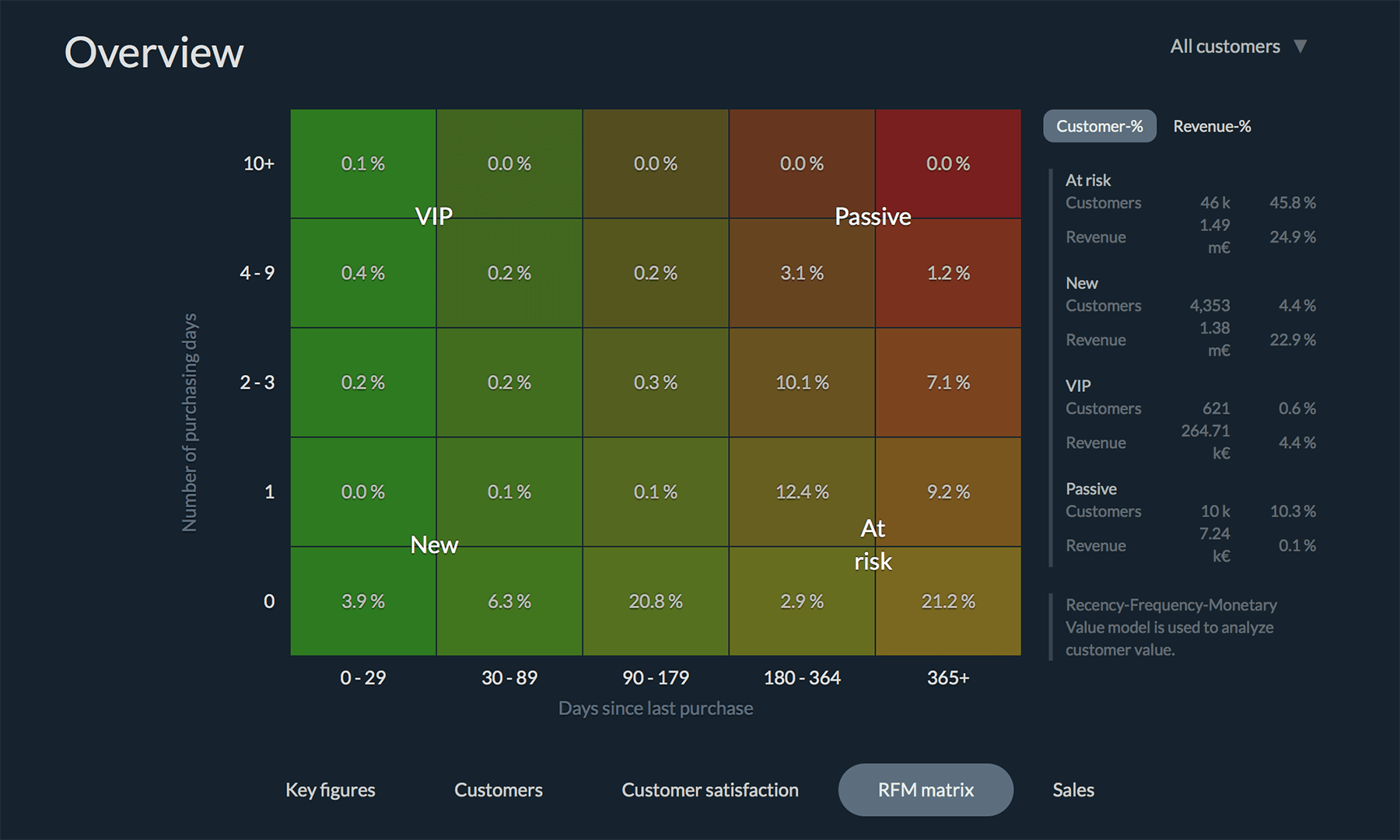 Custobar's inbuilt RFM matrix allows you to identify your new, VIP, passive and "lost" customers based on when they have been active and how often they have purchased, and quickly launch campaigns to reach these different groups. You can identify and compare these groups and immediately see where the most revenue is coming from.
The terminology used in the RFM data is the following:
* Recency: The freshness of the relationship between your brand and your customer; when your customer last bought a product from you (online or offline)
* Frequency: The measure of demand; how many times your customers have bought from you
* Monetary value: This can be seen either as a monetary value or the proportional value of every selected group of customers compared to the rest
The RFM can show data for all customers, but it can also be setup to split specific audiences data, if you want to keep a close look at selected segments of your customer base. Just contact [email protected] with the data you want to see there and we will take care of it for you.
4. Customer Satisfaction Survey
"How likely is it that you would recommend [brand/company] to a friend or colleague?"
This simple, widely used research-based survey allows you to make comparisons both within your company and against the standard within your industry.
Please note! Custobar offers this feature for an additional monthly fee.
5. Audiences
Here you can see a quick summary of the KPIs for your saved audiences. Just like for the RFM Matrix, [email protected] can take care of setting up the environment to your liking once you have specific audiences in mind.