Kekäle treats every customer as an individual
Finnish fashion and clothing chain Kekäle has specialised in selling clothes from the world's leading brands since 1957. The company works with a number of established high-quality brands, and focuses on giving every customer a personalised service. While this was previously only possible face to face, more recently they have set a target of providing just as personal a shopping experience in every channel.
They have physical stores in nine locations and a well-designed new webshop built on Magento already functioning well.
Founded in 1957

200 employees

Nine physical store locations + webshop

Loyalty program


Kekäle's were looking for a more versatile solution than their existing email campaigning tool, enabling multi-channel campaign capabilities. They hoped to combine all their customer data from all every touch-point, and be able to precisely analyse the results, as they are a particularly number-driven organisation.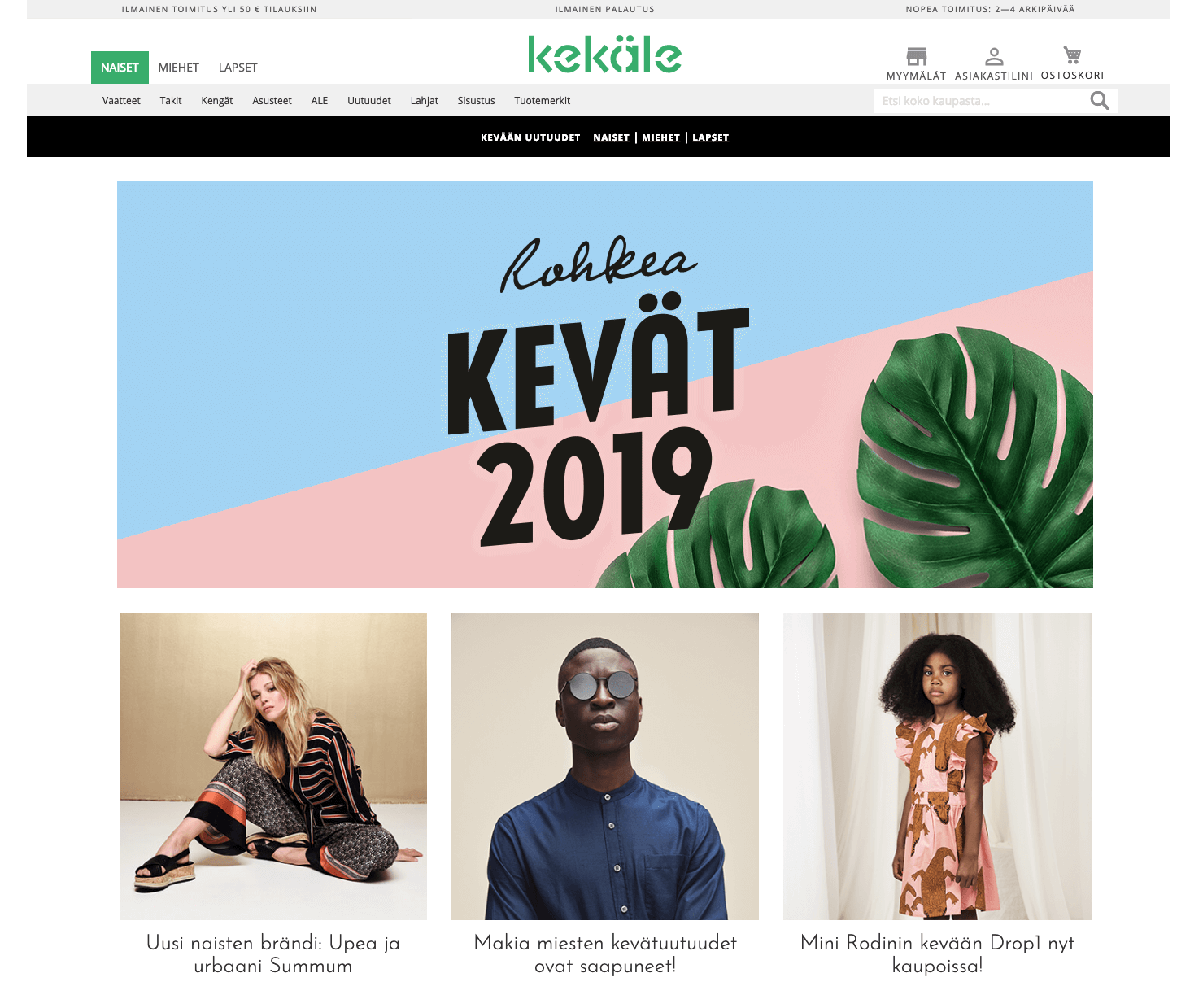 A screenshot from Kekäle webshop
They have a well established three-tier loyalty program functioning both on- and offline, which offers their customers discounts based on their loyalty level. However, they needed the ability to use this data to segment customers, and to enable greater relevance for campaign messaging in addition to the automation of all loyalty program communications.
Challenge
Kekäle has a great deal of data about their customers, but no easy way to integrate it, access it or use it to drive sales.
Loyalty program management and relevant communication based on loyalty levels
Identifying customer buying behaviour (which stores they shop at + online/offline)
Knowing customers' buying and browsing behaviour (brands, categories (men/women/children), or item types (trousers, shirts, etc.) and offering relevant information based on it
Customer size preference, both based on buying or browsing, has not been possible with old systems ->Information that is essential when you want to push out the last pieces out in certain products or categories!


Solution
Custobar was set up for Kekäle to bring together all their customer data – including loyalty-program customers, online shoppers, and newsletter subscribers – and merge the data into unified customer profiles. It would then become actionable for marketing and sales purposes.
The system provides a 360-view over each customer journey, from which insights can be drawn. Now the marketing department can see more details about their best customers, or examples of their audiences; and customer service can use the view to offer the best possible personal service to individuals in stores.
Campaign results can now be seen in real monetary terms - regardless of in which store or channel the resultant purchases were made. Traditionally, marketing results are only measured in opens and clicks, but the money is the driving force. With Custobar Kekäle can clearly see if customers were active due to the campaign, as well as how each individual customer encountered the messaging.
Custobar as Customer Data Platform (CDP)
Data comes from Kekäle's ERP-system, PIM system and e-commerce platform with API integration and browsing data through Custobar Javascript and cookie

All customer data: buying, browsing, and campaign activity – as well as the customer's personal data – is updated to Custobar in real time, and changes are also reflected in their originating system


Campaign examples:
Printed catalogue aimed at customers inactive in digital channels
In this case, Kekäle wanted to send a targeted printed catalogue campaign only to inactive online customers whom they cannot reach with emails. See why and how this is done.
Loyalty automations
If you have 50 € or less to spend before reaching the next loyalty level, and the qualifying period ends in 14 days, you are invited to make purchases in order to close the gap
Brand launch for customers of a specific store
A new high-end men's clothing brand, tf, arrived at two of Kekäle's stores. They targeted everyone who had bought similar brands such as Polo, Hugo Boss, etc. from that specific store or selected zip code area, and invited them to come and see the new products.
The campaign results were excellent: revenue of € 9,400 from 1,000 customers.